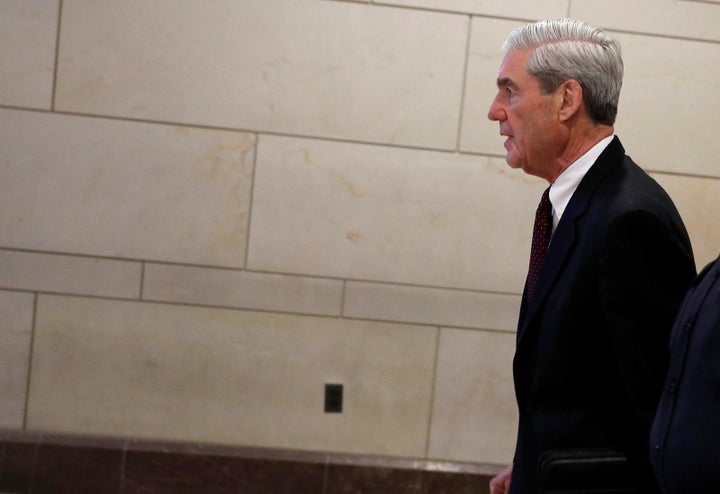 Special counsel Robert Mueller.
Aaron P. Bernstein / Reuters
The special counsel's office has charged a lawyer who did work for the Ukrainian Ministry of Justice with lying to the FBI, according to court filings unsealed on Tuesday.
Alex van der Zwaan, an attorney, is accused of lying to investigators about his interactions with Rick Gates — the former Donald Trump campaign official and longtime associate of Paul Manafort who is also facing criminal charges in the special counsel's investigation — and an unidentified individual referred to in charging papers as "Person A."
Van der Zwaan is due in court on Tuesday afternoon for a plea hearing. He is expected to plead guilty.
According to the criminal information filed by special counsel Robert Mueller's office, which is dated Feb. 16, investigators asked van der Zwaan in November about his work in 2012 for the Ukrainian Ministry of Justice preparing a report on the trial of Yulia Tymoshenko, the former Ukrainian prime minister.
Van der Zwaan is accused of falsely telling investigators that his last communication with Gates was an "innocuous text message" in mid-August 2016, when he had spoken with Gates in September 2016 about the Tymoshenko report.
Prosecutors alleged that van der Zwaan falsely said that his last communication with Person A was a conversation in 2014 when they "discussed Person A's family," when he spoke with Person A in September 2016 about the Tymoshenko report.
Van der Zwaan is also accused of deleting and failing to produce emails to the special counsel's office and a law firm referred to as "Law Firm A," including emails between him and Person A in September 2016.
Van der Zwaan's case is the sixth criminal matter made public by the special counsel's office. Prosecutors on Friday announced that a federal grand jury had indicted the Russia-based Internet Research Agency, two other Russian entities, and 13 Russian individuals, accusing them of interfering with the 2016 election. The special counsel's office also unsealed a criminal case against a California man who pleaded guilty to identity fraud.
The criminal information unsealed on Tuesday does not specify what law firm van der Zwaan worked for when he prepared the Tymoshenko report, but earlier news articles identified an Alex van der Zwaan as being part of a team from the law firm Skadden, Arps, Slate, Meagher & Flom that prepared a report about Tymoshenko for the Ministry of Justice in 2012.
Skadden released a statement Tuesday morning saying that the "firm terminated its employment of Alex van der Zwaan in 2017 and has been cooperating with authorities in connection with this matter."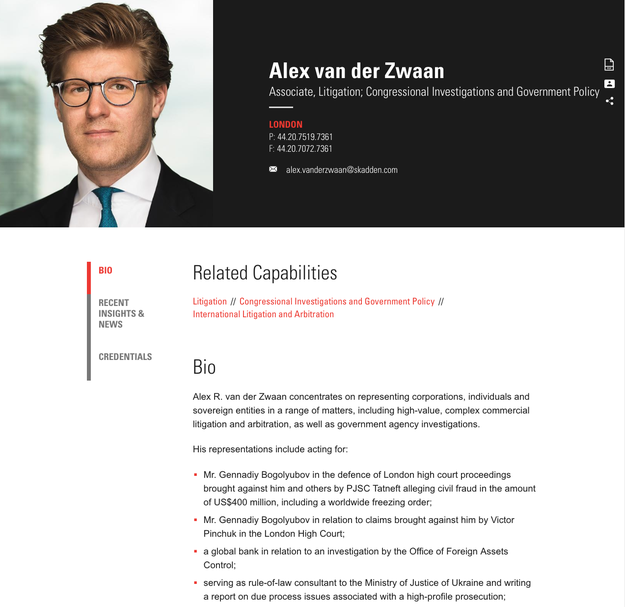 Internet Archive via Skadden, Arps, Slate, Meagher & Flom / Via web.archive.org
Van der Zwaan's firm biography is no longer on Skadden's website, but the Internet Archive's Wayback Machine archived a version of it. The page stated that he served "as rule-of-law consultant to the Ministry of Justice of Ukraine" and wrote "a report on due process issues associated with a high-profile prosecution." He joined the firm in 2007.
Van der Zwaan did not have a lawyer listed on the public court docket. Van der Zwaan is the son-in-law of German Khan, a Russian bank owner who is suing BuzzFeed News over the publication of an unverified dossier of information concerning President Donald Trump.
Gates and Manafort, Trump's former campaign chairman, were indicted by a federal grand jury last year on charges that they conspired to hide their profits from work they performed on behalf of former Ukrainian president Viktor Yanukovych, who served from 2010 to 2014. The indictment alleged that Manafort and Gates's work for Yanukoyvch included lobbying in Congress in connection with the "roll out of a report concerning the Tymoshenko trial commissioned by the Government of Ukraine." The two men were accused of using an offshore account to secretly pay $4 million for the report. They both pleaded not guilty to the charges.
Manafort's daughter, Andrea Shand, worked at Skadden from 2012 to 2016, according to her LinkedIn page. She did not immediately return a request for comment.
A court in Ukraine sentenced Tymoshenko, accused of abusing her position in connection with a 2009 gas deal with Russia, to jail time in late 2011. Reuters reported at the time that the case was "regarded widely in the West as politically orchestrated."
The New York Times reported in September that the Justice Department had asked Skadden for information about its work for Yanukovych and his government.
This is a developing story. Check back for updates.